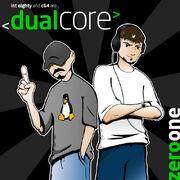 Dual Core is a Nerdcore Hip Hop composed of two rappers known as American rapper int eighty and British producer c64 (David Martinjak and Chris Hunger).
Martinjak, a security engineer from Cincinatti, met Hunger, who was a graphic designer from Manchester, in 2003 on some online music forum. They later collaborated through the internet and produced their music that way. Hunger was known to produce the beats and give them to Martinjak while he records his vocals and uploads them, Hunger later downloads the files then uses them to mix tracks. Dual Core was an unusual for a nerdcore act in that it is composed of a rapper and a producer; most nerdcore rappers produce their own beats. Martinjak and Hunger did not meet in person until somewhat after 2007.
Ad blocker interference detected!
Wikia is a free-to-use site that makes money from advertising. We have a modified experience for viewers using ad blockers

Wikia is not accessible if you've made further modifications. Remove the custom ad blocker rule(s) and the page will load as expected.